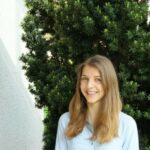 My name is Larissa Baku, I am 17 years old and come from Austria. I am in my last year at high school. The main focus of the school I am attending is Europe and languages which is why I have already taken part in some inter-European events for youngsters during which I discovered my passion for the European Union and its diversity.
So far, I have attended three MEP sessions, two of which have been national sessions in Austria and the third one I had the pleasure to experience in the MEP BSR session in Helsinki in 2015 as a delegate, just like you will have in Kaliningrad soon.
I believe the Model European Parliament is a wonderful and unique opportunity to share your passion and ideas concerning the European Union with like-minded (and sometimes also different-minded) peers from all over Europe, to establish great friendships, and to have a profound insight into the way in which politics in the European Union really work.
I look forward to meeting all of you soon and I am sure we will spend a wonderful time together. I will do my best in guiding you through Committee work and I wish all of you Delegates an awesome insight into MEP.
I am confident that we as a Committee are fully capable of tackling "The question of an ageing society. How can we get a higher proportion of young people faster into the labour market? What measures should be taken to reduce the risk of the threatening challenge to the social welfare system with too few having to support an increasing number of old people?" The issue of the Committee on Economic and Social Affairs is as urgent as never before and it is therefore of paramount importance to work out viable long-term solutions.
Elaborate preparation is the key for animated and reasoned discussions and further finding optimal solutions for our Committee issue. I therefore would advise you to prepare as carefully as possible to ensure our Committee work is going to be great fun and you can enjoy your experience as a delegate the most.
The following few links will help you familiarize yourself with the topic of our Committee issue, but please bear in mind that these are only intended for an initial impetus followed by independent further research
If you have any further queries, do not hesitate to contact me. See you soon!
http://www.economist.com/node/2085219